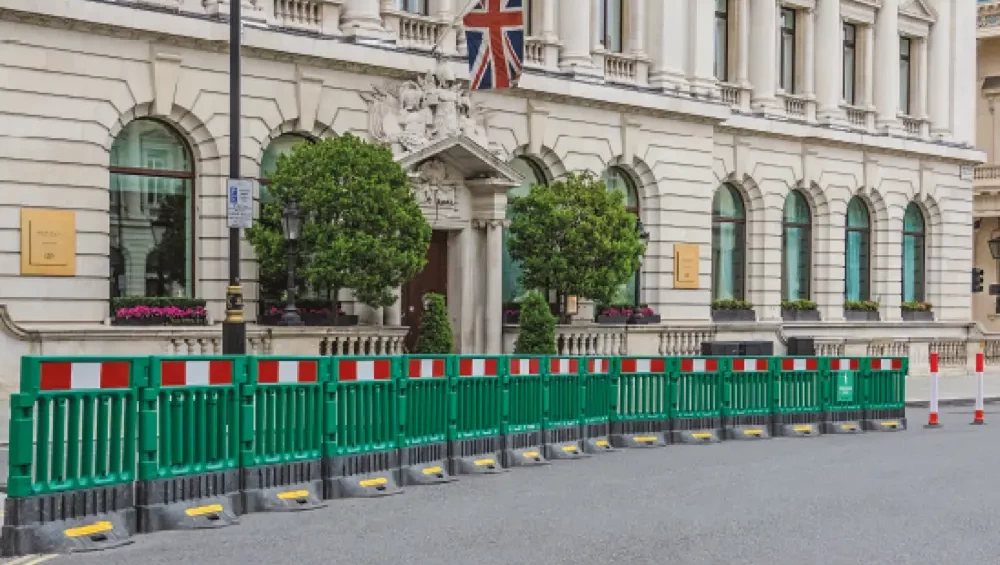 With the streets likely to start busying up over the coming weeks, as government announcements continue to resurrect the economy, hospitality industry and shops, social distancing will need to be the primary consideration for the public. So, what can we do to protect the public on the high streets? That's where Oxford Plastics steps in. With our range of highly visible UK-manufactured equipment, we can provide contact prevention solutions – allowing the high street to adhere to social distancing measures. Learn more about our range of effective versatile construction safety equipment now from our detailed guide.
How to socially distance on the high street
One of the most effective ways to ensure social distancing measures are implemented on the high street is by using streetworks signage and safety equipment. At Oxford Plastics, we supply a range of contact prevention solutions which can protect and help the public adhere to social distancing measures.
Safety barriers and temporary fences
Safety barriers
We have a range of weighted safety barriers which are perfect for directing vehicle or human traffic. Choose from our extensive collection of temporary fences, including our Avalon® Barrier – a customisable, Chapter 8 compliant pedestrian safety barrier; our SafeGate – a portable light telecoms barrier; our Oxford Wall MKII – a red and white traffic delineator barrier; or our StrongWall 1000 – a heavy-duty, wind-resistance barrier.
Temporary fences
Choose from our extensive collection of temporary fences, our StrongFence – 100% plastic heavy duty barrier, or our EnduraFence – a durable and heavy-duty temporary fence.
Find out more from our safety barriers and fences page. For more information on which safety barrier to choose, read our detailed guide on the top 5 barriers.
Signs, cones and speed bumps
Signs and cones are also a great, easy way of controlling foot traffic. Perfect for implementing social distancing measures on the high street, our range of traffic signs includes our EnduraSign – a long-life temporary plastic traffic sign – and our EnduraSign Ballast – a sign ballast for plastic and metal signs. Road cones are available in either our No Waiting Cone option, or our Highwayman Cone.
Learn more about our traffic signs and road cones now, or read our detailed guide on how to use road signs and cones for social distancing.
Here at Oxford Plastics, we manufacture intelligently designed, flexible contact prevention solutions in order to make public spaces and high streets safer and more efficient. With government guidelines regularly updating, our versatile equipment can accommodate to announcements easily – with safe, secure and compliant products. Learn more about our contact prevention products and equipment, or get in touch with a member of our expert team now.