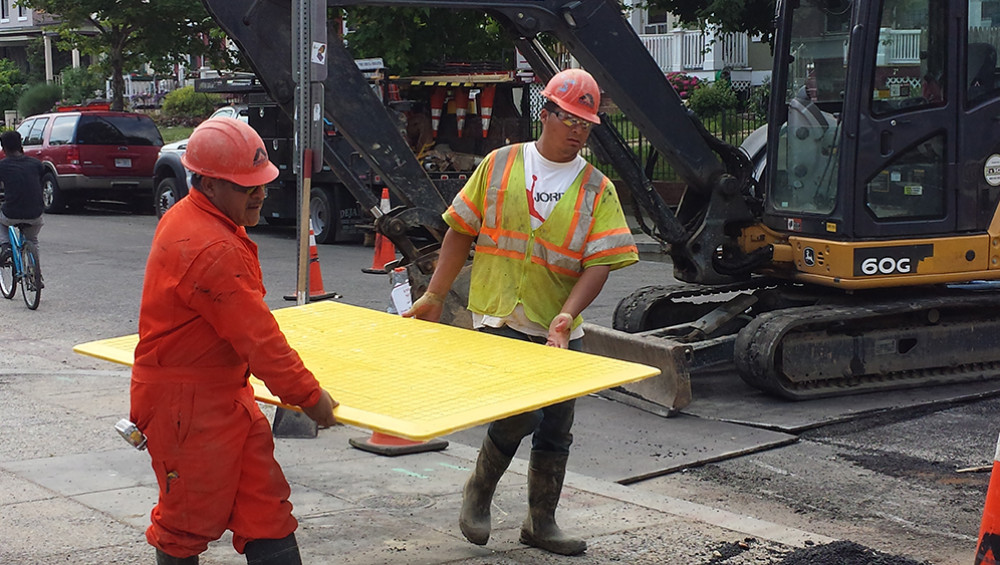 Sustainability is important to us here at Oxford Plastics. And, we understand how important it is to our customers too.
As an SME, we don't fall under the threshold required by the Government to report on our carbon emissions. However, with the help of resources such as the Supply Chain Sustainability School and the Carbon Trust, we have been able to create our own version of carbon reporting for SMEs.
In this guide, we've included some of our top tips for construction and work sites to help you take a step closer to achieving your sustainability goals. We've also created our own glossary, to explain some of the commonly used terms surrounding sustainability.
1. Measure emissions
Measuring your emissions will help you to understand your carbon output and identify areas where you can make changes. We've followed guidance from Carbon Footprint consultants to help calculate our carbon emissions across our business.
When you measure carbon emissions, remember to include factors that can be overlooked such as;
How are employees travelling to and from work, do they drive or take public transport or do they walk?
How is equipment transported, can it be carried on-site or does it need machinery to be lifted?
To learn more about measuring your emissions there are resources available from authorities such as the Carbon Trust, Supply Chain Sustainability School and GHG Protocol.
2. Educate your workforce on sustainable processes
It's important to have stakeholders within your business to champion green practices and enforce green policies. When your employees understand the reasons behind your sustainable practices, they are more likely to comply. Good communication is key to success.
3.Buy or hire equipment that will help you to reduce your emissions
One of the best places to start when trying to lower your carbon emissions is to review your equipment. Depending on what equipment you need to use, it might be more eco-friendly to hire equipment as opposed to purchasing it outright.
When deciding on whether to buy or rent your equipment some of the factors you'll need to consider include;
Intensity of use: Choosing equipment that increases your utilisation rate can reduce the amount of equipment you may need to use overall.
Using the right tool for the job: Making sure the tools and equipment you use are designed with the job in mind can also have an impact on your carbon footprint.
Transportation: The size, weight and distance your equipment needs to travel before arriving on-site will have an impact on your carbon footprint. Heavy equipment requires more power to move. And, sourcing your equipment locally whether choosing to buy or hire will be helpful in reducing your emissions.
4.Consider your materials
Choose building and construction materials that are eco-friendly where possible. Building materials contribute to more emissions than building operations in most construction projects. If the industry continues to use materials with the same level of embodied carbon as it does currently, the materials chosen to use in building and construction are predicted to be responsible for 90% of the emissions created by the construction sector between 2015-2050.
Concrete and steel are among the materials that have the highest level of embodied carbon. When choosing materials for your building or construction projects we recommend reviewing the embodied carbon. For example, in recent years there has been more research into greener alternatives to concrete such as ferrock, which is made from 95% recycled materials like steel dust and ground glass.
Choosing materials across both construction and operations that have a low embodied carbon is important to reduce your carbon footprint. For example, choosing composite road plates instead of steel road plates can reduce your carbon emissions by up to 79%.
5.Use local suppliers
Whether buying or hiring equipment for your construction or building project, using local suppliers can help minimise your carbon footprint.
The less distance your materials need to travel, the less carbon will need to be used in transporting them. It is also worth remembering, even if you are using a local company to source your equipment or building materials, it is preferable to choose products that are made locally. This is because the distance that equipment and materials need to be shipped is included in their embodied carbon.
6.Repair, reuse, recycle
Creating a circular economy by repairing, reusing, and recycling is a good strategy for reducing your carbon footprint. Here at Oxford Plastics, our products are modular which means that if one part wears out it can be replaced or repaired. Our products are made from recycled plastic and 75% of our products can be recycled, and the remaining 25% can be recovered for energy.
7.Dispose of waste properly
If waste products cannot be repaired, reused or recycled it's important that they are disposed of properly. If you don't have the ability to dispose of your waste yourself, in many cases, you can send it back to the supplier for them to dispose of it for you. At Oxford Plastics, we'll happily accept products at their end of life where we can recycle and reuse them.
If you want to find out more about how to safely recycle products in the construction industry, read our blog on recycling construction materials. Or, if you want more information on some of the commonly found sustainability download our user guide and jargon buster. Find out more about our commitment to sustainability or talk to a member of our helpful team today.