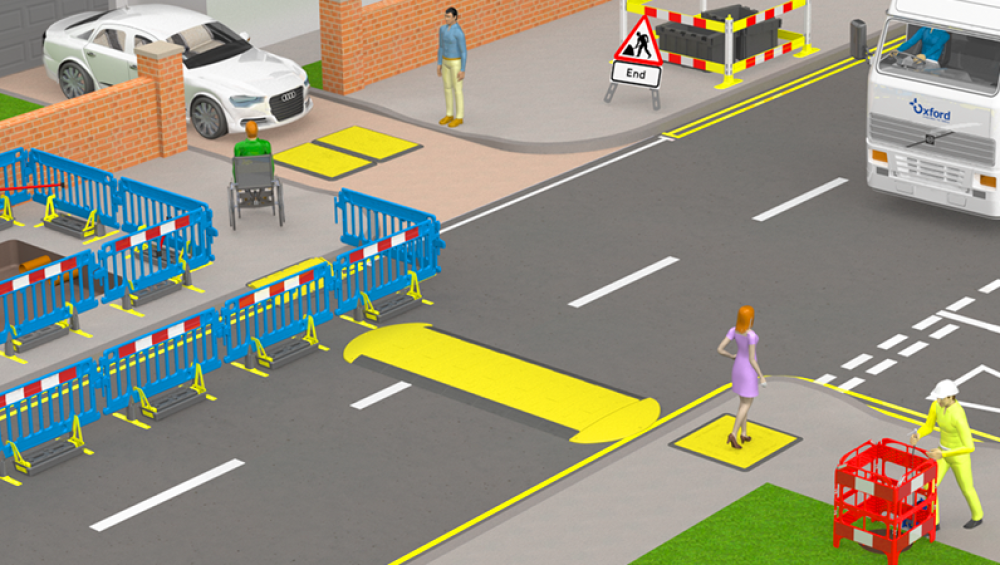 Safety is paramount when working on highways and street works. Ensuring operatives and the public are safe and that road users, including pedestrians, cyclists and equestrians are not put at risk, is a key aspect of the job. In this blog, we'll explain some of the main challenges that face road construction workers and explain how to solve them.
1 – Excessive noise
Construction tasks, tools and equipment can produce high levels of noise. Not only can frequent exposure to high noise levels cause hearing problems, but it can also cause complaints if the works carried out are in a residential area.
If you find yourself raising your voice to have a normal conversation when standing around 2 meters apart for even just some of your working day, then noise levels are at a dangerous level and this could damage your hearing. It's not just consistently loud noise levels that can become a health and safety problem, you can also experience hearing damage from sudden loud noises at work such as loud bangs or pops from cartridge-operated tools.
So, what are the best ways to reduce noise on a road works site? And when's best to use hearing protection?
Choose the quietest equipment for the job. Compare noise levels when buying or hiring equipment and substitute materials for ones that make less noise. For example, steel road plates can create excessive noise, especially when used in areas with high traffic. Choosing a quieter alternative such as the LowPro 23/05 will help to eliminate unwanted excessive noise.
When you have noisy work planned, try to remove people from the area if you can.
Assess noisy processes and change them if you can.
Make sure hearing protection is available if needed, but don't provide excessive protection as cutting out too much noise can lead to workers not wanting to wear hearing protection. Silencing all noise can also reduce the ability to communicate effectively.
2 – Limited work space
Often when working on highways and street works, one of the biggest challenges can be working in small spaces. It's important to be able to carry out the work effectively but still be safe in a smaller space.
Some of the best ways to combat working in a limited workspace include:
Reducing the number of people on the site where possible to make sure everyone has enough room to work.
Reducing the number of vehicles moving through the site where possible. This could be done by using equipment that is easily movable and transportable.
Using space-saving barriers. Increase the amount of space available to work in by choosing barriers that are not only durable, but also easy to use and transport. Our most popular barrier, the Avalon® barrier, is a great example of this.
3 – Poor visibility
Poor visibility can create dangers when working on highways and street works. Not only can it create risks to site workers if they cannot see one another, but it can also create risks to and from the public, especially if you are working close to live traffic.
To combat poor visibility, we recommend:
Using lighting if works are carried out at night or in dark areas, but make sure this does not obscure the visibility of any safety signs or safety equipment.
Implementing a clear barrier between the roadway and walkway This should be visible to pedestrians and vehicles approaching the site. Here at Oxford Plastics, we supply a wide range of barriers. Our StrongFence and Strongwall Barriers, Avalon and SafeGate barriers are fitted with a reflective strip for extra visibility.
Everyone on site should be wearing a high visibility PPE such as hi-vis jackets.
4 – Public trespassing onto the site
Whether accidental or intentional, excluding unauthorised people is essential when considering site safety. According to statistics from HSE, every year two or three children die after gaining access to building sites.
Ways to tackle both intentional and accidental trespassing on site can include:
Making sure fencing and barriers are visible and use clear signage to reduce accidental trespassing.
Using anti-climb fencing, such as the StrongFence to deter the public from climbing over the top.
Using anti-tamper barriers, such as the StrongWall® to stop the barriers from being dismantled by unauthorised persons.
5 – Misuse of equipment
Making sure you're using the right equipment for the right job is an important factor for site safety. Using equipment that is worn out or not fit for purpose can result in preventable risks you'll want to avoid.
Make sure to avoid the misuse of equipment by:
Making adequate safety checks before using a piece of equipment, ensuring it's fit for the job in hand, and that there are no signs of malfunction.
If there are any significant signs of wear and tear, order replacement parts if needed, or source an adequate replacement. It's worth noting that replacement parts are available for our products, to help extend their lifetime.
Making sure staff are trained to use the required equipment and that, if needed, a spotter is available to ensure the work is carried out safely.
Here at Oxford Plastics, we understand that keeping your workers and the public safe is of utmost importance. Our safety products are engineered to minimise the risk of harm and we provide a comprehensive range of intelligently designed site safety products, not only for road work safety, but also across a wide range of industries. Read more about our Chapter 8 or Red Book compliant products here. Or if you'd like to talk to one of our friendly and knowledgeable team, get in touch today.