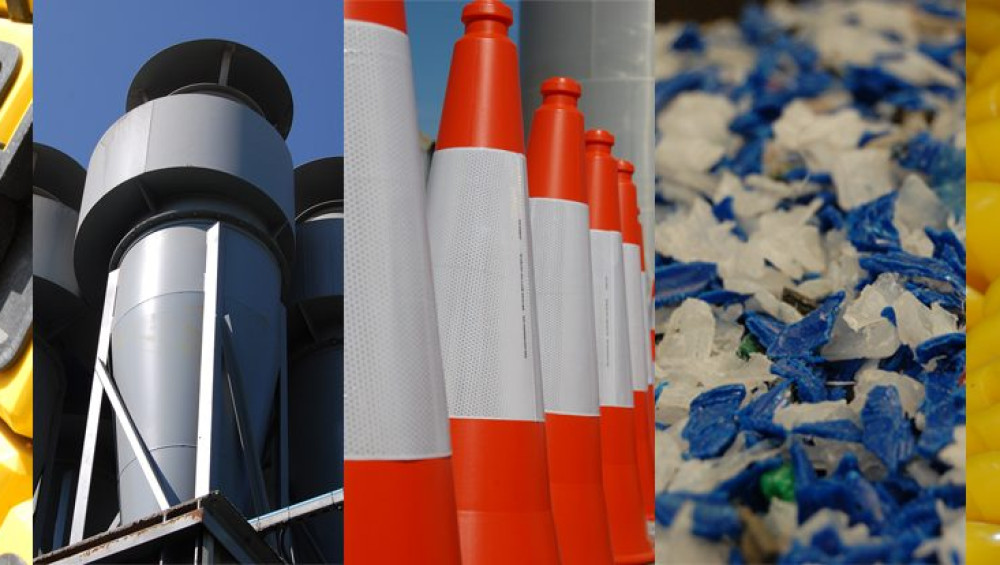 Here at Oxford Plastics, we are dedicated to reducing the amount of waste produced and recycling our materials where possible. We have a detailed recycling and sustainability promise for our customers and end users – which follows the notion that:
We aim to design out waste & pollution in our products and processes.
We keep products & materials in use through the 'Right to Repair'.
We manufacture long-lasting innovative site safety equipment.
What we do to maintain our sustainability promise
We're proud to contribute to the concept of a circular economy: "A circular economy is based on the principles of designing out waste and pollution, keeping products and materials in use" – Ellen MacArthur Foundation. And the best way for Oxford Plastics to contribute is by prolonging the life of the products we sell, by ensuring they withstand the test of time using rigorous testing measures.
We also have the 2021 goal of reducing our site's carbon footprint by using low-carbon or zero-carbon energy sources to run it. This energy will then be used directly in our manufacturing process in order to power our moulding machines, and indirectly power the offices we have on site.
Sustainable safety products
When it comes to our sustainability promise, we endeavour to be as environmentally friendly as possible – which is why we source our recycled and virgin materials from the UK and Europe, and source materials locally wherever possible to reduce our carbon footprint.
All the products we design are created with recycled materials in mind. We have even partnered with Barclay's Green Asset Finance to provide a more energy efficient solution to our creation process, purchasing more sustainable moulding machines and components.
Wherever we can, we try to provide a sustainable solution for our products. For example, our Lantis Barrier range is the only product of its type in the world – made from 85% PCR (post-consumer resin) plastic which comes from plastic bags and wrapping used by retailers and factories. However, the most important part of our environmental sustainability and recycling promise is PVC recycling.
PVC Recycling
Here at our Enstone site, we have the ability to recycle and reuse PVC where possible. This material is then reused in other products we manufacture, too. On average, we use around 23,000 tonnes of recycled PVC each year to create our products.
Which PVC products can be recycled?
Our PVC plastic safety products which can be recycled include items such as:
The 'Right to Repair' act
Here at Oxford Plastics, we are also proud to offer the 'Right to Repair'. This approach ensures that when you buy a product from a company or business, said business should then provide you with the ability to repair this product if it has broken – rather than simply having to buy a new one. This means we are able to extend the product's life and encourage our end users to repair rather than replace – creating a more sustainable safety solution.
In order to facilitate this for our customers, we sell replacement parts and features of our plastic safety products. For example, if a foot breaks on one of our pedestrian barriers, we can provide you with a new foot and instructions on how to fit it.
Need to return our products for recycling?
Returning your products for recycling purposes couldn't be easier with Oxford Plastics.
Step 1: contact us to confirm whether your products can be returned to our Enstone site for recycling or reuse. In this email, please include images and a description of the goods
Step 2: you can then arrange haulage and pay the £15 handling fee per pallet for products returned to us
Step 3: the products which are made of recycled PVC are then recycled on site in Enstone.
For more information on our sustainable safety products, get in touch with a member of our friendly team today.