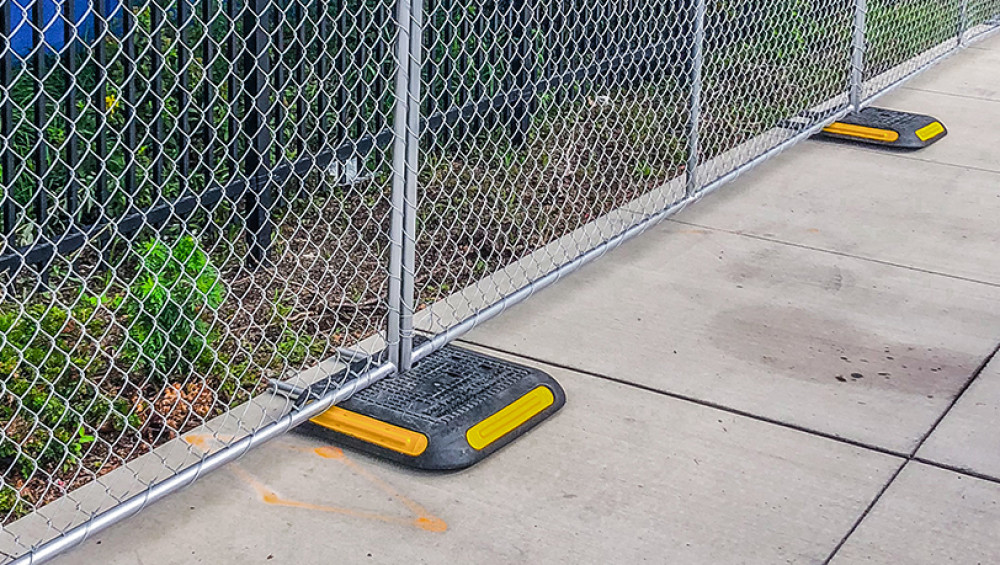 Why are sandbags used to secure barriers and fencing?
Sandbags are commonly used as a form of defence against flooding and to secure temporary fencing. Generally, they are effective and offer some distinct advantages, such as:
Inexpensive to make
Cheap to transport
Easy to supply across large outdoor events and wide construction areas
Are sandbags dangerous when used to secure barriers and fencing?
Although there are some benefits of using sandbags for securing barriers and fencing, it is not always the best solution for companies across the US. Organisations and entities rent temporary fencing for many reasons. From construction sites to outdoor events – they are used to prevent the public from entering certain areas that may be unsafe or off-limits, or to keep individuals in a specific area.
Temporary fencing and barriers are used in large quantities across the US year on year by rental companies. Sandbags are the US standard used to stabilise and support the structure of temporary fencing for short or long periods of time – but can become a liability.
Trips and falls are a common occurrence when sandbags are used to secure barriers and fencing. With high volumes of foot traffic regularly moving around fences, sandbags can become a high-risk solution that could potentially cause injuries to the public and become hazardous.
Dangers of using sandbags to secure barriers and fencing?
The use of sandbags to secure barriers and fencing can often be dangerous and can come with some disadvantages.
Pedestrians
During large events or public construction sites, pedestrians' walkways can become obstructed when sandbags are used as they are directly in the pathway of people. This can become hazardous due to trips and falls being inevitable.
Employees
Construction sites and events have many employees working within the fenced area. Sandbags that line the perimeter can get in the way of employees and cause an unsafe working environment which can cause liabilities for employers.
Disadvantages of using sandbags to secure barriers and fencing
Aside from the safety factors involved, there are some other drawbacks of using sandbags. These include;
Due to the material, they are prone to rips and tears. Meaning they damage easily and it is unavoidable
The lifespan of a sandbag is short and they will need to be replaced often which can be costly
The weight of sandbags are heavy, but often not heavy enough where they can't be moved. In high traffic areas, they can be tampered with and moved out of position resulting in an unsecure fence
Visually they are not that appealing and can be noticeable at events where the overall look and location is the main attraction
Alternative solution to sandbags
Oxford Plastics have developed a more effective solution to secure barriers and fencing. The Temporary fence weights are suitable alternatives to sandbags and are durable enough to support fences efficiently, providing reliable and exceptional use time and time again. The 29-30Ibsg weights are easy to handle, easily stackable and there are no risks of them tearing or leaving debris behind. What's more, the temporary fence weights fit securely on most tube stands, making them an ideal sandbag alternative solution for public spaces.
Here at Oxford Plastics, our site safety range of products are designed and manufactured to be long-lasting, high-quality, problem-solving equipment that minimize the risk of hazards. Our wide range of plastic barrier and temporary fencing solutions for traffic control, street works, and construction sites are ideal for short or long periods of time. Find out more about our comprehensive range of products or get in touch with our friendly team today.