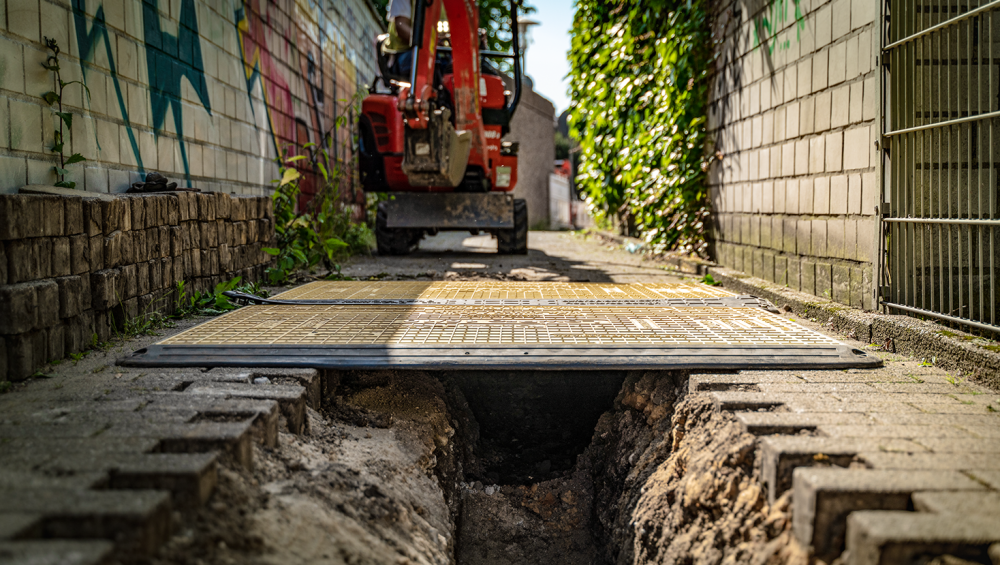 Need road plates to cover up a temporary excavation, bore hole or trench? Oxford Plastics have the perfect solution. But before you purchase, you might want to understand more about road plates. That's why we put together this comprehensive guide – including how much weight they can hold, what material you should opt for and the different types of road plates you can use.
What are road plates used for?
Road plates are designed to provide a temporary solution for ground excavations or broken road areas where pedestrians, traffic or machinery would need access. They not just used in pavement areas but can be used for carriageways as heavy-duty road plates also have the ability to take on the weight of a 44-tonne vehicle. Road plates are available with a treated skid-resistant surface, as well as untreated – depending on the situation that they are required for.
How much do road plates weigh?
At Oxford Plastics, our composite road plates can take the weight of a 44-tonne vehicle. However, the weight of the plate itself depends on the nominal size thickness of the plate required to cover the excavation whilst maintaining a safe load bearing capacity. It's worth noting that composite road plates are considerably lighter than steel road plates – meaning that they can be manually installed unlike steel plates which require a HIAB or heavy-lifting machinery.
Steel road plates vs plastic road plates
Often when deciding which road plates to use, the question arises whether steel road plates or composite road plates are better. Typically, composite road plates offer many benefits that steel road plates cannot– such as stability and even surfaces, less noise pollution than steel road plates and they're much lighter making them easier to move. Steel plates also tend to bend and warp over time whereas plastic road plates offer a solution which is much more durable.
For more information, view our guide on steel road plates vs plastic road plates.
Types of road plates
Here at Oxford Plastics, we offer a variety of road plates to cover temporary excavations. Choose from either our LowPro 15/05 Road plate – a modular road plate for a 700mm trench – or our LowPro 23/05 Road Plate – the same modular road plate but built for a 1200mm trench instead.
Find out more about our exciting range of trench covers and road plates in our ultimate guide, or, for a case study on the successes of using road plates for your business, view our detailed case study for some of our reputable Germany clients. For more information on buying road plates and trench covers, get in touch with a member of our expert team.