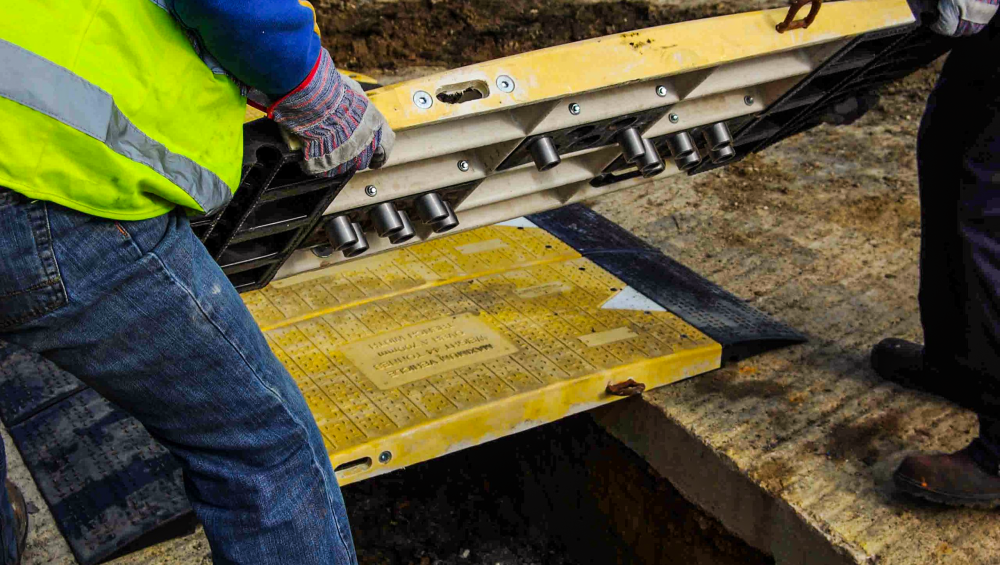 Ever wondered what the difference is between steel and plastic road plates? Here at Oxford Plastics, we understand the importance of efficiency, safety and reduction of costs – so if you want to learn more about how our plastic road plates can provide that for your business, read on and watch our informational video below.
Why choose plastic road plates over steel alternatives?
To help easily answer this question, our handy video clearly demonstrates the initial benefits of choosing LowPro road plates over traditional steel options:
So, which would you prefer?
In this video, we can see the immense force required to simply lift the steel plate, compared to the minimal effort required to lift and install a plastic road plate in comparison – clearly highlighting the benefits of plastic versus steel plates.
Some of the key benefits include:
Weight – as demonstrated in the video, steel plates are much more difficult to both move and install – requiring both heavy machinery and labour force.
Installation time – with the weight aspect taken care of, this drastically improves the installation time of plastic road plates. With a LowPro road plate, workers can simply lift the plate into place in a matter of minutes.
Labour force – installing a plastic road plate requires two workers, whereas a steel plate would need multiple – so road plates also save costs by reducing the demand of workers.
Safety – operating heavy machinery and installing heavy plates can also cause a risk to workers – while a plastic road plate alleviates the need for heavy machinery, therefore reducing health and safety risks.
Learn more about the benefits and differences between composite and steel products from our dedicated guide.
Types of LowPro road plates available
Unsure which plastic road plate to use for your construction site, streetworks project or any other environment requiring road covers? We supply a range of LowPro road plates perfect for any project – including:
This plastic road plate is a modular system of singular linking units – which is suitable for 44-tonne vehicles over a 700mm trench. Weighing 44kgs, this road plate is much lighter and easier to handle than a steel plate – making it a popular choice among the construction industry.
This product is built with anti-slide technology – made from a soft, flexible, rubber material which reduces unwanted movement. Learn more about the LowPro 15/05 Road Plate now.
Another modular system of singular linking units, the LowPro 23/05 is again suitable for 44-tonne vehicles – but this time, over a 1200mm trench. This road plate can be installed manually, and again, features superior anti-slide technology, provide secure access to the surface. Learn more about the LowPro 23/05 Road Plate now.
Ready to purchase your own LowPro road plates for your construction needs? Get in touch with a member of our expert team today and request a quote.