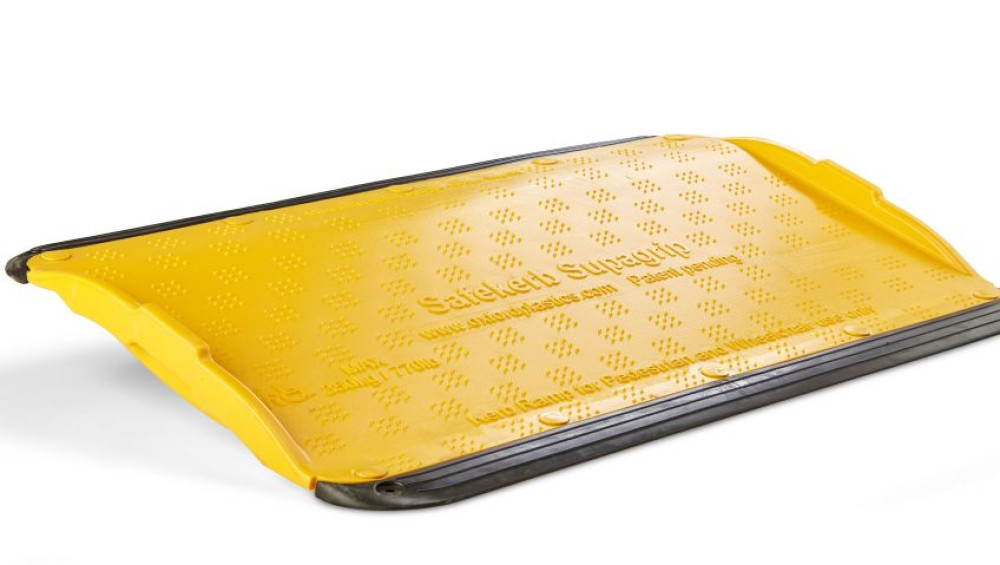 Streetworks are a necessary part of maintaining road infrastructure, pedestrian safety and the modernisation of our environment. However, this often poses its challenges to pedestrian accessibility – especially for those that suffer with a disability that affects their mobility.
The Equality Act, 2010 states that streetworks, or construction work, should be planned so that they do "not put a disabled person at a substantial disadvantage compared to a non-disabled person".
That's why, here at Oxford Plastics, not only do we provide the relevant equipment to ensure that pedestrian safety is maintained at all times during streetworks, but also the capability to cater for everyone – providing an all-inclusive way of working. We comply to the Disability Discrimination Act 1995 – meaning that our Chapter 8 streetworks products are applicable to those who are disabled, and can be used and installed in a way that caters specifically to those who suffer with mobility issues. This isn't always just wheelchair users, either – it could refer to the elderly, parents with prams and pedestrians who need to use a stick or a guide-dog.
It's also important to consider the hidden disabilities that people may be facing – such as autism, dementia or learning disabilities. Although this may not directly hinder people's mobility, the impact of streetworks accessibility may be confusing for people – which again, shows why it's so important that the correct safety measures are implemented.
How OPS products support disabilities
We're proud that our variety of products can cater for those with disabilities – and there are a number of products and ancillary items which are the perfect choice in these circumstances:
SupaGrip Ramp – this product is more recently designed, and follows on from the SafeKerb ramp. This product differs in its design – with its black edging that grips the surface to greatly reduce unwanted movement – but also in terms of weighting, as this ramp can take more weight (up to 350kg) than the SafeKerb ramp.
Infill strips – our infill strips complement our range of LowPro Trench Covers well, allowing a flat surface which is perfect for wheelchair access. These strips not only remove the trip hazards sometimes faced by two joining trench covers, but they also stop the boards from moving, as there's no lateral movement, ensuring a safe and stable platform for pedestrians.
Disabled access during Covid lockdown restrictions
In recent months, disabled access has become more of a pressing problem as restaurants and bars have extended their outdoor table offering. By doing so, this has often led to pedestrian access being compromised – as this space has been used for extra tables, in order for the hospitality industry to pull in more revenue in the wake of hospitality restrictions.
This is likely to have been a slight inconvenience for most pedestrians, but for wheelchair users in particular, this has proven to be quite challenging. A clip has recently gone viral of 25-year-old Katie Pennick struggling to fit through the gaps between diners in Soho, London. iNews have the original clip – which shows her struggling to navigate her way through socially-distanced tables located in the middle of the pavement. One of the most important factors about this is that Katie actually uses a 'teenage' wheelchair – meaning the wheelchair itself is "tiny" and only "23 inches wide". She said: "If I'm struggling to get through these 'gaps', they are completely impassable for most wheelchair users.
"And it's not just wheelchair users who can't get by. It's people with buggies, wheelchairs, large families, scooters and visually impaired people who use guide dogs." This clip has prompted businesses to 'not forget' disabled people in its outdoor seating plans.
That's why, here at Oxford Plastics, we're aware that there can be a problem for disabled pedestrians – and we feel confident we are able to offer solutions to help solve these problems, and make their lives easier when streetworks are happening.
Our UK Business Development Manager, Josh Willis, adds: "Designing and manufacturing products with the challenges faced by those with physical or hidden disabilities is at the heart of all OPS products.
OPS's innovations in LowPro trench cover technology and the completely anti trip Clearpath Extra barrier feet are testament to this."
If you're interested in our disabled ramp construction equipment, or simply want to know more, get in touch with a member of our expert team now.