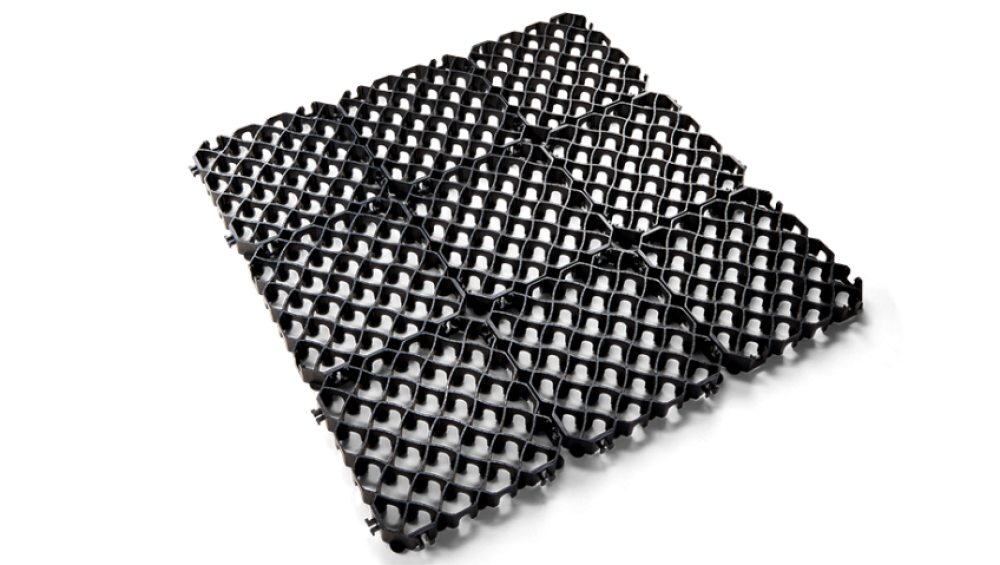 From ground protection mats to temporary walkways, here at Oxford Plastics, we have a wide range of ground protection equipment available. Traditionally, plywood is used for ground protection – however, this material tends to splinter, break and become waterlogged. Our products are made of durable plastic, and are not only environmentally friendly but also cost-efficient, too. All of our products are designed and manufactured in the UK – and are made from recyclable plastic.
Why do you need ground protection equipment?
Ground Protection equipment is essential for preventing grounds from getting damaged – this could be any terrain, including fields, driveways, or muddy roads. Our equipment prevents grounds from getting damaged by heavy machinery – similarly, ground protection can also provide stability to heavy machinery on the more tactile ground.
Types of ground protection equipment
Our Clearpath Mat is a hi-vis temporary pedestrian mat – ideal for work sites, events and temporary zebra crossings. There are many unique features to the Clearpath Mat: the black and white colours allow the mat to serve as a provisional zebra crossing. Our Clearpath mat also comes with colour customisable options, to match your brand logo.
Another benefit of our Clearpath Mat is the easy installation, unlike plywood – you don't need any bolts or excess tools to fit our Clearpath Mat, not only saving your time but also money.
The EnduraGrid is an interlocking porous paving system, designed to provide a firm surface – you can use EnduraGrid on carparks, driveways, paths, patios as well as grassy and muddy areas. This ground protection grid is created specially to withstand gravel and grass, providing a surface that cannot sink or shift once installed. Our system also allows for drainage and is part of the Sustainable Urban Drainage (SUDS) initiative.
Installation is especially easy, as the EnduraGrid can be easily cut to size in any area. There is no expensive equipment needed, unlike when you need to install other alternatives – on top of this, the EnduraGrid is also able to adapt to the weather, as the durable material expands and contracts with the weather. The EnduraGrid also is more aesthetically pleasing than other ground protection alternatives as grass can grow through the holes and disguise the plastic.
Our EnduraMat is our heavy-duty ground protection mat, best suited for:
Worksites
Events
Creating temporary access
This versatile mat is useful for both pedestrian and vehicle access – you can use the EnduraMat to create semi-permanent roadways using heavy-duty couplers or you could create portable roadways with light-duty couplers. With the EnduraMat, you can easily create stable grounds for heavy vehicles, as well as walkways and thoroughfares to avoid hazards. If you would like to know more about the benefits of our ground protection mats, read our helpful blog.
If you would like to purchase one of our ground protection mats, then you can refer to our helpful ground protection product page. Alternatively, get in contact with one of our helpful team.