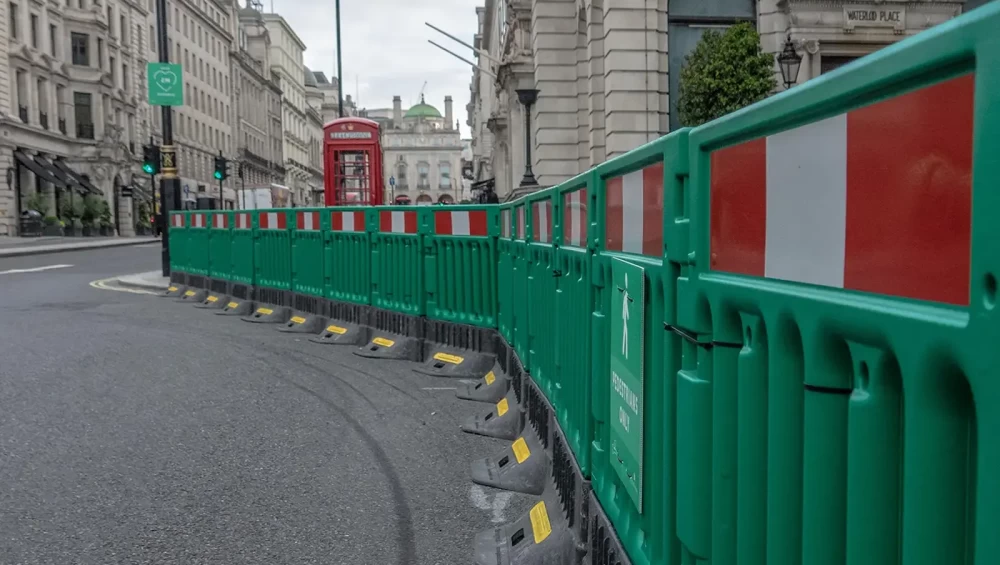 Looking to purchase a set of StrongWall barriers for your construction site, road works or pedestrian access points? Read up on our ultimate guide to StrongWall barriers now to find out how safe they are, where they can be used and what the benefits are, too.
What are StrongWall barriers used for?
Predominantly, StrongWall barriers – as well as other safety barriers – are designed for the safety of pedestrians and vehicles. They are a heavy, robust and strong barrier which is not easily tampered with, and provides safe access to pedestrians through highways, and construction works – as well as maintaining the safety of vehicle traffic.
Where are StrongWall barriers used?
Building works
Construction sites
Events
Pedestrian access
Highways or motorways
Road works
How safe are StrongWall barriers?
Our range of plastic StrongWall barriers are fully compliant with Chapter 8 StreetWorks – having shown to withstand crash testing. This proves they're a suitable solution for both traffic control, and human traffic, offering increased safety as well as risk minimisation.
These types of barriers are also non-conductive, which means they pose no threat to being around electrical materials or are likely to bring any forms of electric shocks to people who encounter them – making them a safe solution for pedestrians and workers at live sites.
What are the benefits of StrongWall barriers?
Portable and secure
The StrongWall safety barrier is lightweight and easy to move and straightforward to transport. When on site it can be water or sand filled to create a robust and durable perimeter in high winds. With its water-filling feature on the top section of the barrier, alongside a tamper-proof pin and bucket locking system, this makes the StrongWall barrier difficult to manipulate once set into place – allowing public safety to remain as the priority.
Environmentally friendly
With the StrongWall safety barrier being designed and manufactured in the UK, and 100% recyclable, this means that it provides an environmentally friendly solution.
Long lasting
The barriers are non-corrosive – meaning they are difficult to damage or wear. With a tight-knit pin and bucket locking system, these barriers are likely to stay in place – and be a reliable and durable solution to controlling crowds and vehicle traffic.
The wind resistance element is also important to consider when learning about StrongWall barriers, as they are proven to withstand high winds – meaning they are unlikely to topple over or be moved after installation. This is also helped by the barriers' water-filling feature, meaning the additional water weight will prove useful to particularly windy conditions.
Now you're clued up, hire one of our StrongWall barriers now. Alternatively, for more information, get in touch with a member of our experts.