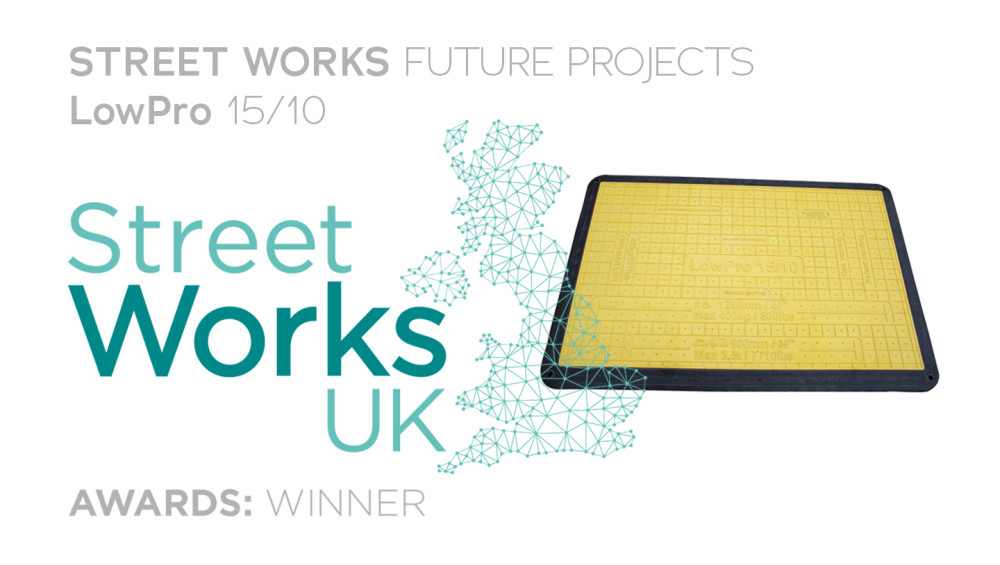 November 15th, the Utility Industry assembled at Westminster for the Street Works UK Awards 2017 (formerly NJUG). The awards celebrate innovation and diligence across the gas, water and electricity sectors. And we are thrilled to have won the Street Works Future Award for the LowPro 15/10: replacement for steel plates in driveways.
The Oxford Plastics LowPro 15/10 overcomes the many issues caused by cumbersome steel plates to create safe and easy access for residents to their homes during routine utility works.
Handling methods of steel plates require either HIAB lifting equipment or in some cases mini diggers. Neither was deemed acceptable in the residential environment, with steel plates also being over-engineered for this application. And so, collaborating with tRIIO & the Oxford Plastics Research & Development Team, we set to work designing a safe and simple solution that would enable residents to access to their homes during utility work excavations.
The rapid adoption of this innovative solution across the Utilities and construction industry is testimony to its creation. The LowPro 15/10 solves an industry problem that has been around for years, and ties in directly with the Street Works UK Key Goals: safety, high quality, minimise disruption & innovation.
Feedback from Users
"At Wales & West Utilities our essential work to respond to gas emergencies, connect new homes and businesses and upgrade the gas network can mean that we have to dig in footpaths and driveways. The Oxford Plastics products we use meet all our needs and removes safety concerns around the use of traditional steel plates. The Oxford LowPro 15/10 is quick and easy to install. It is a time and money saver; helping us to deliver value for money to our customers while keeping disruption to customers, road users and other members of the community to a minimum."
Graham Bond
Street Works Manager
Wales & West Utilities Limited
"Balfour Beatty provide the essential infrastructure assets societies need to function, develop and thrive. Our teams operate across the full infrastructure lifecycle and address long-term challenges. We harness innovation to improve safety and minimise this essential work has on local communities and the investment in the Low Pro 15/10 product has helped us to deliver this goal. The product has also been part of the development of the HAUC advice note on the specification and Operational requirements for footway boards, Driveway Boards, Footway Ramps and Road Plates."
Tom Lambert
General Manager Streetworks
Balfour Beatty Services