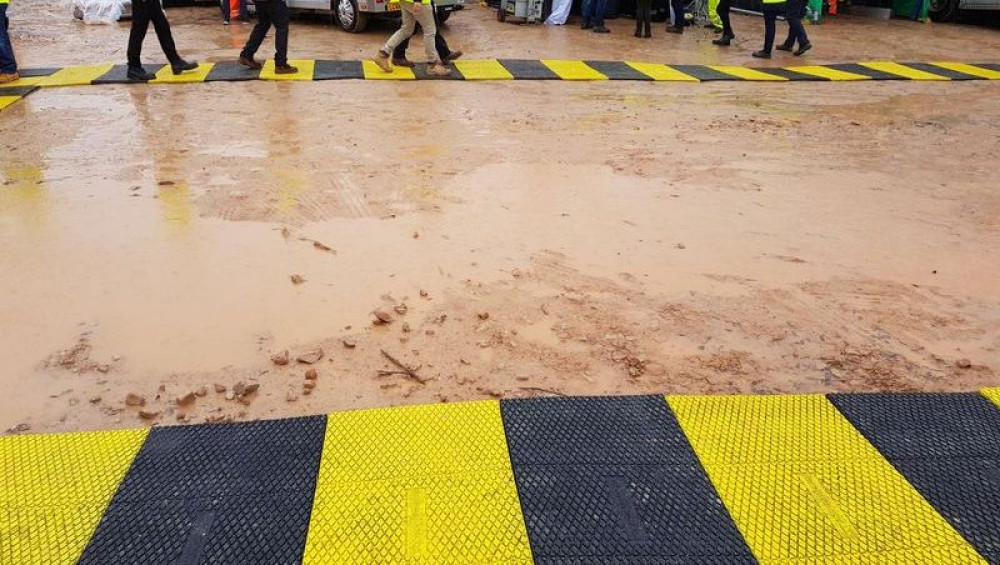 Looking for temporary walkways for over mud, or perhaps your construction site? Whatever the purpose, it's important to understand exactly what a temporary walkway is, what the benefits are, and how this would comply with UK health and safety regulations. Learn everything you need to know about temporary pedestrian walkways from our detailed guide.
What are temporary pedestrian walkways?
A temporary walkway is designed to provide safe access for pedestrians. This could be across a construction site, during a streetworks operation, for facilities management or can be used at events. Here at Oxford Plastics, our temporary walkway mats can be used as zebra crossings – as well as permanent walkways for pedestrians if required.
Our range of temporary walkways is designed and manufactured in the UK, making them a local solution for multiple requirements. With a sturdy structure yet extremely easy and fast to install – with no need for bolts – it's easy to see why these temporary pedestrian walkways are a popular choice among our customers.
Benefits of temporary walkways
We are proud to supply our ClearPath® Mat – which is a temporary zebra crossing mat for pedestrians. So, why is this temporary walkway such a popular choice? Some of the main benefits include:
Environmentally friendly – our temporary walkways are 100% recyclable, and are also made from recycled plastic.
Quick installation – as this temporary walkway solution does not require bolting down, it's very easy and fast to install.
Versatile – you can select whether you'd prefer our ClearPath® Mat for temporary use, or for more permanent pedestrian access.
How do temporary walkway mats adhere to health and safety regulations?
When considering installing a temporary pedestrian walkway, it's natural you'd want to ensure this meets all health and safety regulations required. Here at Oxford Plastics, we are proud of our rigorous health and safety compliancy – and this can be seen through these features of our ClearPath® Mat:
Compliant with HSE – this is a facilities management and construction product which is fully compliant with HSE.
Anti-trip barrier –use in conjunction with the 2m Avalon Barrier with ClearPath® Extra Feet to create a secure walkway and prevent pedestrians from straying from the path.
Social distancing – our ClearPath® Mat can also help with social distancing, as it can divert the public away from a certain area in a calm manner by clear demarcating walkways, for example, in schools.
Rigorous testing – all of our products undergo testing in extreme environments to ensure the durability of the product, and guarantee its longevity as a permanent solution. We slip test our ClearPath® mats – meaning they are highly non-slip in both wet and dry conditions.
Here at Oxford Plastics, we're proud to supply the most comprehensive range of intelligently designed and engineered site safety products available anywhere. For more information about our range of ground protection mats and temporary walkways, get in touch with a member of our friendly team today.